The 20-year-old female resembling a character from a Stephen King novel was in a car crash on Halloween. The first responders were shocked at what they found at the scene as they saw the student covered with what looked like blood.
Policemen and medical response teams were super surprised to find evidence of wreckage which occurred on Halloween night. The driver of the vehicle was sopping wet with blood from head to toe. Many of the onlookers and officials thought it was from a gushing wound to the head.
Sidney Wolfe, dressed for the occasion, was in Kentucky visiting a haunted house. She was wearing a white dress complete with "blood-soaked" patterns when a dear appeared out of nowhere and caused her to crash her car. The young lady prompted everyone's concern with her ghastly appearance. Even the emergency responders didn't know to what extent her injuries were on first sighting.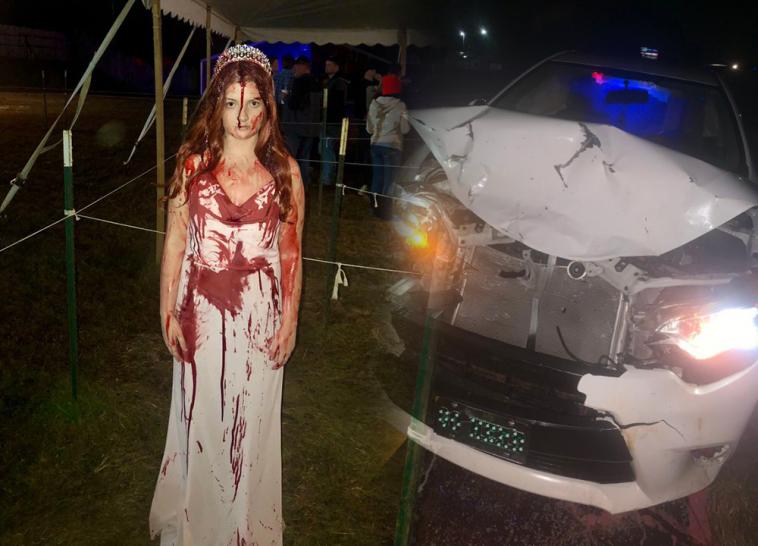 Wolfe told The Washington Post, "They kept asking over and over again if I wanted medical assistance, and I kept saying, 'No, I'm okay.' Once I got my wits to me and kind of calmed down, I realized that I was in fact not injured, and I was just in a really ironic situation." Only then did officials relax as well.
"After I got the chance to explain that it was Carrie makeup, they thought it was hilarious," she said. "They were absolutely wonderful. They couldn't have handled it better."
We're all ecstatic Sidney walks away with minor injuries. She was on her way home when the accident happened. She had been out of town promoting the presentation, Carrie: The Musicalfor Marshall University. The event is based on the iconic Stephen King novel, Carrie.
Of course, she had to tweet the incident. She said:
"If anyone wants to know how my weekend went I totaled my car while dressed up as Carrie and everyone who was a first responder thought I was dead HAHAHAHA IM SO SORRY. Everyone is asking for the back story so here it goes. I was promoting Carrie the Musical at a haunted house. At the end of the night, I was too tired to shower and remove my makeup so when I wrecked the first responders saw my blood and freaked. Waiting for my parents to come pick me up from the scene, two more policemen showed up. By this time, I was out of the vehicle and making conversation with the people. The new officer says 'I hate to interrupt but don't you guys think she needs medical assistance'."
Wolfe's tweet brought in over 68,000 retweets and received over 370,000 likes. It sounds like she'll be a guest on Ellen before long. It's the least anyone could do since she put her life on the line to promote the university's musical. Who knows, maybe she'll meet the king of horror in person because of it. That would be extra cool.
Everyone is glad she's okay, but one person it particular told Sidney she found the "coincidence hilarious." Someone else replied that "the whole Carrie/dead thing has me laughing so hard hahaha."
But it seems like Wolfe is not the only one sharing this kind of experience. The writer responds and says, "Sis that happened to me two years ago on Halloween. I had my throat fake slit and people thought I was dead because I fainted for a second." Ahh, the joys of Halloween. You gotta love it.