Copy-trading, also called social trading, is a relatively new feature that allows investors to benefit from the forex market without actively trading by themselves. Since 2005 when the first social trading service was launched, it has become popular among traders. General statistics show that at least 25% of traders and investors in the financial markets are involved in copy trading.
How Copy Trading Works
The concept of copy trading is simple; one or more trading accounts (called the Copier account) are linked to another (called the Master account) through the copy trading engine offered by a broker or 3rd party provider. Whatever trading actions are taken on the Master account are replicated in the Copier accounts. This means that win or lose, the owners of the Copier accounts get what the Master gets.
These Masters are usually traders with much experience who have built up a decent following over the years and are recognized for their trading skills.
Features of Copy Trading
There is a leaderboard that contains several metrics that Copiers can use to select a Master.
Regulated risk levels: Most brokers set different levels of risks that Copier accounts can use when following the signals of a Master account.
Instant execution of trades on a Copier account in an automated fashion
Profit-sharing formula. This can be in any pre-agreed percentage but it varies from broker to broker. Some brokers provide that copiers only pay a fee to the Master when profits are made, while some charge a tiny fee for the copy trading service.
Losses are borne by the Copier and no compensation can be sought.
There is usually a social platform where traders can interact.
Live trade monitoring for Copiers. This is possible from anywhere and from any compatible device in the world.
Trade analytics and statistics of the copied signals are available.
Customer support service is usually available.
In many instances, there is no communication between the owners of the Master and Copier accounts.
Types of Copy Trading Services
There are three types of copy trading:
Automated copy trading: In this type, Copiers can view trading positions of various Masters and decide which to connect to. The trades are entered automatically and copiers may only exit the positions without modification.
Semi-automated: Here, Copiers can view Masters and check out their trading positions. They may then decide to manually enter the trading positions on their accounts manually, or allow the trades to be copied automatically from the Master's account.
Manual: The manual trade only allows copiers to enter the trading position by themselves. They may link their accounts to the Master's and get live trading positions, but they are responsible for the execution.
How to Choose the Best Broker for Copy Trading
Choosing the best broker for copy trading requires a knowledge of three basic factors:
Speed of execution: Even a little delay of a few seconds in the execution can affect your account.
Trading conditions: Your broker should offer excellent trading conditions such as low/tight spread, minimum lot sizes, standard leverage, and margin, etc.
Information on the performance of Masters: This should be clear, accurate, and displayed in a ranked list.
Once you find a broker that meets those requirements, access their social hub, and interact with the Masters and Copiers there to get a better idea of their trading and investment experiences.
In the next part of this article, we review the 10 best brokers that offer copy trading services:
#1 Roboforex
Site: Roboforex.com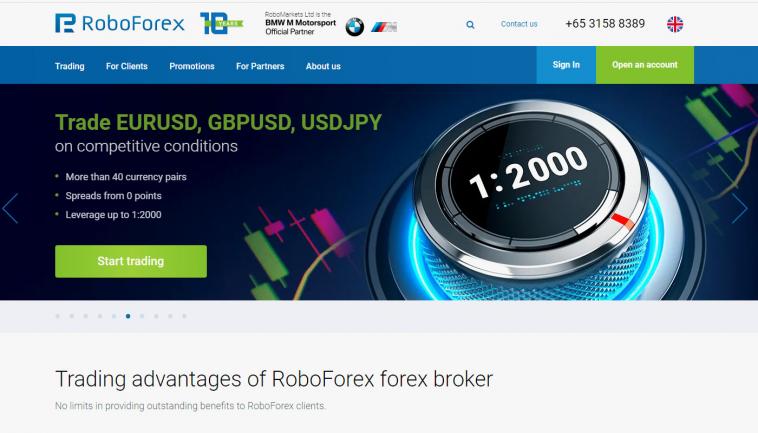 Roboforex was established in the year 2009 as a financial services company. Roboforex offers a platform for clients to trade the financial market through various markets, assets, and instruments such as Forex, CFDs on Indices, Cryptocurrencies, Stocks, Commodities, and ETFs. Their website is multilingual, supporting English, French, German, and Russian languages.
Advantages and Disadvantages of Roboforex
The advantages of Roboforex include:
Trader education and analytics: Roboforex offers traders some level of trading education via recorded videos.
Trading platform: Roboforex provides a proprietary trading platform with full features including trading robots. The company also provides trading access on the MT4 and MT5 trading platforms as well as a mobile web-based platform called the R Trader. Clients using Windows and Mac devices desktop devices can also access Roboforex.
Customer support: Roboforex customer support is available in multiple languages; a move that sees clients' queries attended to most simply.
The disadvantage of Roboforex include:
Clients from the US and certain other regions are not accepted.
Roboforex has no offshore regulation.
Trading Conditions
On Roboforex, trading can be done via four different account types. These accounts are the same but they differ in leverage, spread, and minimum deposit. The following trade conditions apply:
Spread: All four accounts begin with a floating spread of 0 pips. On the website, it is stated that there are payable commissions. Only Pro-Cent and Pro-Standard have minimum spreads of 1.3.
Leverage: Prime account has a limit of 1:300 leverage, ECN account has 1:500, R Trader has 1:300, while the Pro-Cent and Pro-Standard account types come with the highest leverage of 1:2000.
Minimum deposit: Traders may fund their accounts with a minimum of 10 USD/EUR.
Deposit and Withdrawal Channels
Roboforex provides a wide range of deposit and withdrawal methods. For deposits, clients can use the following: Credit and debit cards (VISA and MasterCard), bank wire transfer, Skrill, Neteller, AdCash, Chinese UnionPay, AstroPay, POLi, and FasaPay, etc. Except for bank wire transfers, these methods allow for instant processing of funds.
Withdrawals are mostly commission-based, with varied fees attached. However, the maximum fee is less than 2%.
Copy-trading service
Roboforex operates a copy trading investment portal known as CopyFX. On this platform, social trading is open to anyone who can afford the $100 initial capital requirement and can interpret the leaderboard for the Master accounts (known as Traders). All Copiers are known as Investors.
The CopyFX is a trading and social hub where traders and investors meet to share ideas and experiences. Traders who so wish may go on to connect their accounts to any trader of their choice and begin copy trading.
The service is free, although traders have to agree to a sharing formula with their Masters for when profits are made. Traders may request additional information on the Master account they want to copy and can also get access to 24/7 customer support. Roboforex ensures instant execution of orders on all copier accounts.
The CopyFX copy trading service can be operated using the Cent Account and Standard Account on Roboforex.
#2 Hotforex
Site: Hotforex.com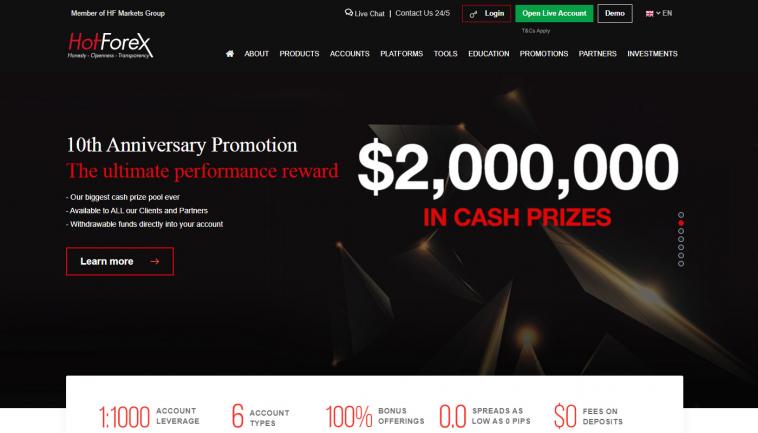 HotForex offers clients the opportunity to trade the financial market through its brokerage. Founded in 2010, HotForex is a brand name under HF Markets (SV) which is registered as an international business company in St. Vincent & the Grenadines with registration number 22747 IBC 2015. HotForex is owned and operated by the HF Market Group of Companies. HotForex is licensed and regulated by the Financial Services Commission(FSC), Mauritius with license number 094286/GBL.
The broker provides over 1000 trading assets across forex, cryptocurrencies, shares and bonds, ETFs, commodities, and indices. The broker offers six account types: Micro, Premium, Zero-spread, Auto, PAMM (Premium), and HFcopy. Swap-free accounts for Muslim clients are also available. The website is available in multiple languages and offers full features to visitors and traders.
Advantages and Disadvantages of HotForex
The advantages of trading with HotForex are:
Customer support: HotForex offers customer support in 27+ languages, 24/7. Email and phone support are available.
Trader education: HotForex provides beginner and advanced education for traders. These classes are in recorded videos. HotForex also provides navigational information in form of trading guides.
Trading platform: On its website, HotForex states that it provides 12 trading platforms. The most popular among these is the web-based trader available on mobile browsers, Mac and Windows, the mobile app available on both IOS and Android, and also the MT4 and MT5 trading platforms.
A wide range of deposit and withdrawal methods to make the trading experience smooth.
HotForex has a market analysis segment that includes daily market analysis, weekly webinars, and interactive sessions.
The disadvantage of HotForex is that:
Only 56 stock CFDs are available for trading.
Copy-trading service is not available for EU residents.
Trading Conditions
HotForex does not provide fixed spreads. However, spreads are low and begin from 1 pip on regular accounts and 0 pips on the zero spread account. The minimum and maximum leverages are 1:300 and 1:100 respectively. The minimum deposit for each account varies from $5, $100, $200, $250, and $500.
Deposit and Withdrawal
With over 15 methods available, clients can process their deposits within seconds and have their accounts funded immediately. Deposit methods include Debit and credit cards (Verve, MasterCard), e-Wallets such as Neteller, Skrill, Trustly, and also via bank wire transfer. Processing fees may apply depending on the method used, and the processing time may be anywhere between 10 minutes and 2 days (for bank wire transfers).
Copy-trading service
HFcopy is the name of HotForex's copy trading service. It is a well-designed platform that brings traders and investors together in a mix of business and (limited) social interactions.
Traders can see the Masters via a ranked list that displays their recent trading performances. Clients may also view more of their trading history before choosing their Master. Trading fees are only charged when profits are made (fees may be up to 50%).
HotForex offers three types of copy trading; automated, semi-automated, and manual. The traders can check their accounts at any time and withdraw from a Master whenever they choose without a trading fee. However, all open positions must be closed before this.
The copy trading service is open to every account on HotForex; no special requirements are set.
#3 Naga
Site: Naga.com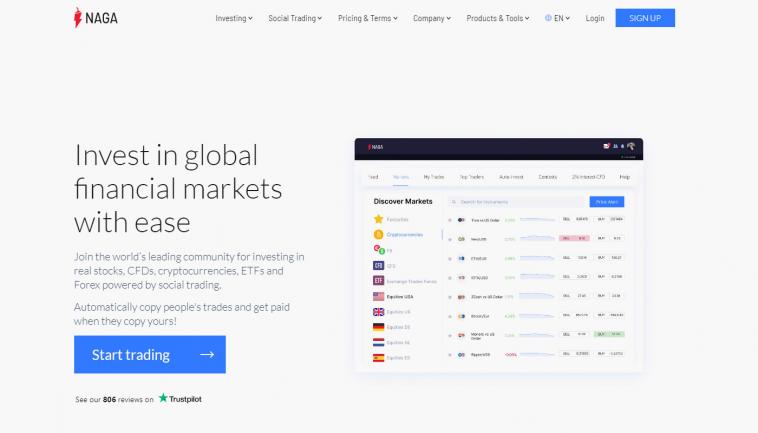 Naga is a fintech company that offers broker services. Established in 2015, it is registered with the numbers: FCA ref. no. 609499 | BaFin reg. 135203 | Consob reg. 3844 | CNMV reg. 3591 (as listed on its website) as an International Business Company in St. Vincent & the Grenadines. Naga is part of Naga Group Subsidiaries, which is registered in various countries including Cyprus, Germany, and St. Vincent & the Grenadines. Naga is listed in the Frankfurt Stock Exchange and is licensed by the CySEC (Cyprus Securities and Exchange Commission) with the number 2014/13.
Naga provides access for clients to trade the financial market through different assets and markets such as Cryptocurrencies, indices, CFDs, and commodities. The website is operated by a team from the parent company and is designed with modern features including customer support in a wide range of languages.
Advantages and Disadvantages of Naga
The advantages are:
Trader training: Like most modern brokers, Naga offers some education for traders. This education covers the basics of training as well as some intermediate topics.
Customer support: Naga's customer support service is available in multiple languages and can be accessed 24/7 via a phone number, email, or live chat.
Naga coin: Naga has its native coin with a crypto wallet built-in. Clients who register are automatically assumed a crypto wallet that they can use for transactions.
Naga is listed on the Frankfurt Stock Exchange: This adds more credibility and assurance of the safety of customer's funds. Naga is also backed by FOSUN, a multibillion-dollar Chinese company.
Copy trading service.
The disadvantages are:
There is no proprietary mobile app available. Clients can only trade using the Naga native trader, or the MT4 and MT5 linked platforms on both mobile (IOS and Android), Mac, and Windows only.
Trading Conditions
Naga offers some of the most competitive trading conditions in the forex industry. This is aimed at attracting clients and improving their trading experience. Some of these are:
Low spread: All accounts on Naga begin from a minimum spread of 1.5 pips.
Low minimum deposit: Naga allows a minimum deposit of $5; with this, clients can open and close positions. This is accompanied by a low minimum lot size.
Leverage: Naga's leverage is pegged at 1:30.
Deposit and Withdrawal
Clients may use any of the numerous deposit and withdrawal methods provided by Naga. Crypto, e-Wallets such as Skrill and Neteller, and debit or credit cards.
Copy-trading service
Naga's main product offering is a copy trading service. This is rightly called social trading because the social platform is wow. On Naga, social trading goes beyond copying positions; traders can interact on a well-designed hub where ideas can be shared using the Naga Feed and the Naga Messenger.
The copy trading service covers all asset classes: real stocks, CFDs, ETFs, cryptocurrencies, and forex. Traders who wish to can apply to become signal providers (Masters) and start a following. For those who prefer copying (Copiers), Naga allows them to choose from Auto-copy, semi-auto copy, or manual copy.
Copiers can edit the settings of the copy service to ratio the lot sizes used by the Master. You can also adjust the percentage of your account which can be subjected to copy trading by using the Auto-Copy ratio function.
#4 Darwinex
Site: Darwinex.com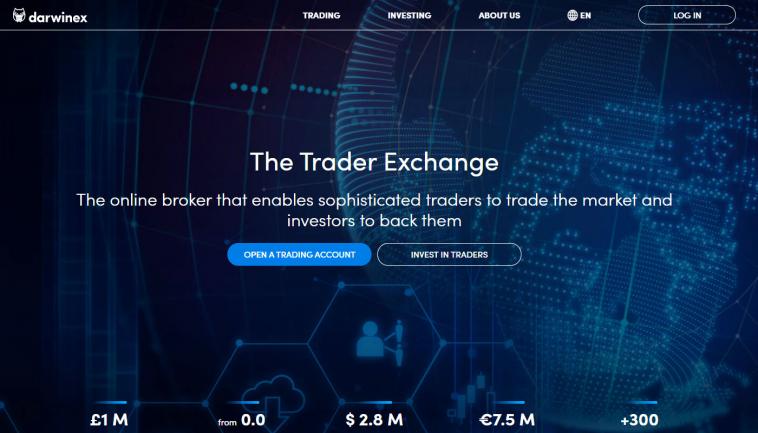 Darwinex, established in 2014 as a Fintech company named Tradeslide Trading Tech Limited based in London, was officially registered as a forex broker and is licensed by the FCS (UK) with registration number 586466. Darwin provides brokerage services for spread betting in addition to its forex services. Traders who chose Darwinex can take advantage of the market through a wide range of assets and instruments (over 300) including forex, metals, cryptocurrencies, indices, and commodities.
The website is operated by Tradeslide Trading Tech Limited and is designed to meet the modern standard of trading. The website can be accessed via multiple languages from over 100 countries.
Advantages and Disadvantages of Darwinex
The advantages of using Darwinex include:
Low spread: Darwinex offers the lowest possible spread; 0.0 pips.
Low and standard lot sizes.
Customer support service available in multiple languages around the clock.
Demo accounts for practicing strategies: Darwinex allows traders to practice strategies on a demo account before going live.
Segregated funds to ensure the safety of deposits. Customer funds are segregated in different accounts; a feature made to add another layer of security to the funds of investors. The funds are also backed up by deposit insurance of up to $500,000.
Trader training: Darwinex trader education is offered in the form of videos and a trading blog. New traders can receive basic forex knowledge and begin their trading journey.
Trading platform: Asides from its proprietary web-based trader, Darwinex is also linked to the MT4 and MT5 apps.
The sole disadvantage from our standpoint is that:
Clients only have a limited range of tradable instruments.
Trading Conditions
Darwinex's trading conditions are:
Spreads start from 0.0 pips. Although the spreads are dynamic, they are tight and among the most competitive in the forex industry.
Trading fees are charged. However, they are subject to specific trades.
Minimum deposit of $500. For first-timers, however, the minimum deposit is pegged at $200.
Minimum lot size of 0.01.
Margin and leverage trading. Leverages begin from 1:30 and up to 1:400.
Deposit and Withdrawal
With Darwinex, traders are assured of fast and easy deposits or withdrawals. All clients irrespective of their account types are welcome to deposit or withdraw through MasterCard, Visa, Trustly, Skrill, Sabadell, Santander, NatWest, Neteller, and also bank wire transfer. Each of these methods may take some time to be processed. However, they are fast. Deposit fees may also be charged by the payment processors.
Copy trading service
Darwinex's copy trading service is unique; unlike others that allow traders to follow and directly copy trades, Darwinex works by buying a DARWIN. A DARWIN (Dynamic Asset and Risk Weighted Investment) is a financial asset created by Darwinex. This asset's value is based on the client registered as a trader on Darwinex.
Traders who hold DARWINS can choose to buy or sell them (just like stock trading). Now here is the meat. The value of a DARWIN increases or decreases depending on the performance of the trader who provides the DARWIN. So, each time the trader who holds DARWINS places a trade, Darwinex also places an exact trade on behalf of the trader. The losses or gains reflect on the account.
#5 eToro
Site: eToro.com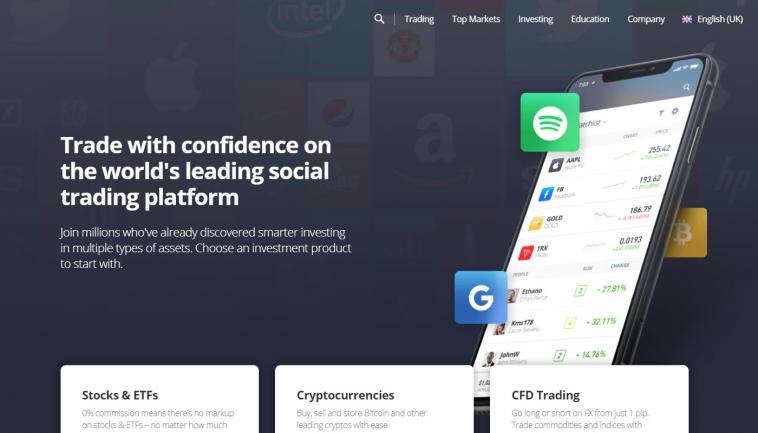 eToro was established in 2007 as a brokerage that offers financial services to clients all over the world. Registered as a Fintech company in Cyprus Cypriot Investment Firm, CIF) with registration number HE20058, eToro is also licensed and regulated by the CySEC (Cyprus Securities & Exchange Commission) with license number 109/10.
The company provides a plethora of market instruments and assets including cryptocurrencies, forex, stocks, and commodities. In addition to these, eToro has its native wallet through which traders and non-trading clients may store cryptocurrencies the website is available in different languages, designed to make trading easy, and offers full market features to users.
Advantages and Disadvantages of eToro
The advantages of eToro are:
Trader education: eToro offers basic and intermediate trader education for interested clients. This training covers the basics of trading and also the navigation of the trading platform.
Trading platform: eToro has its trading platform hosted on a web portal. This web trader has full tools and features for trading. eToro also has mobile applications for IOS and Android users who prefer mobile trading. The MT4 and MT5 third-party platforms can also be used by traders who prefer them as eToro is listed on both.
Trading conditions are favorable.
eToro native wallet is available. This wallet makes it easy for deposits and withdrawals to be made quickly.
Customer support is available around the clock in multiple languages.
eToro's trading fees are quite competitive.
The disadvantages of eToro are:
eToro clients in the US are limited in their choice of currency. clients from that country may only use cryptocurrencies for now as no fiat is available for them.
Limited deposit and withdrawal options: Traders on eToro can only withdraw or deposit via online banking or wire transfer. This severely limits the options clients may use.
Trading Conditions
eToro's trading conditions are made competitive to increase their customer base and make the trading experience beautiful for them. Some of these conditions are:
A minimum deposit of $200. However, the first time deposit is a minimum of $50.
Low spread: on eToro, spreads begin from as low as 1.1 in forex, and 0.75% for crypto trading.
Leverage trading: eToro allows traders to leverage. The leverage on every account begins from 1:30 through 1:500.
Swap fees apply. However, Muslim clients are exempt from this.
Deposit and Withdrawal
Clients who wish to deposit and withdraw may only do so using the electronic transfer options or domestic wire transfer. For deposits, clients have to deposit the equivalent of their currency in US dollars. A bank account must be linked to the eToro account first before the online request is processed. For wire transfers, an ABA document has to be provided alongside the details of the transaction. This document is submitted on the website.
Withdrawals also follow a similar procedure; first, the client requests for a withdrawal and then enter the details. The minimum withdrawal is $30.
Copy trading service
eToro's copy trading service, CopyTrader™, is the most popular feature on the website. It allows traders to copy trading positions from other traders to whose accounts theirs are connected. The process is smooth and simple. Trading fees are only deducted when profits are made and Copiers may withdraw from a Master at any time. It is possible to trade several asset classes using the Copy trading service.
One of the best features of eToro's Copy trading platform is the presence of the risk score system. This system classifies a trader's strategy based on how conservative or aggressive the system is. A lower risk score is a conservative score (1-4), while a higher risk score (7-10) indicates a highly aggressive strategy. The Risk Score represents a great way for Copiers to copy Masters that showcase a risk appetite they are comfortable with.
#6 FortFs
Site: FortFs.com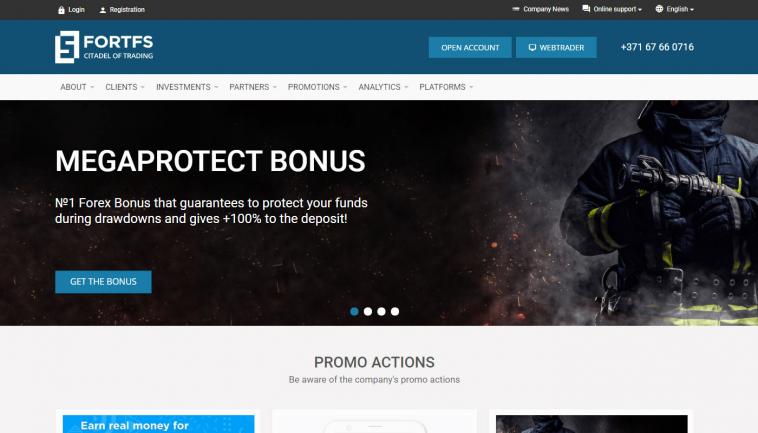 FortFs is a relatively new forex broker registered in 2010 as an International Business Company in St. Vincent and the grenadines with registration number 2307 BC 2019. FortFs is licensed and regulated by the International Financial Services Commission of Belize with license number IFSC/60/256/TS/17.
The company is licensed to provide brokerage services to clients for such assets and instruments in the financial markets (over 50) as currencies, indices, commodities, CFDs, and other leveraged financial instruments. The website is easy to navigate and available in multiple languages including English, Polish, French, Spanish, Russian, and Arabic.
Advantages and Disadvantages of FortFs
The advantages of FortFs offering are:
Trade education: This is available on the website. Clients who are new to trading can take basic and intermediate classes to improve their knowledge.
Analytics: FortFs provide forex analytics to traders. On the website, clients can access technical and fundamental analytics as well as weekly and monthly reviews. There is also a section titled 'Signals' where traders can get paid trading positions. There is also a place for forex news and event calendars to be viewed.
Trading platforms: FortFs provides four trading platforms for clients. These are the MT4 and MT5 platforms, the CQG (premium platform), and the Ninja Trader. These platforms are easy to use and stocked with tools and full trading features and are available on mobile (IOS and Android).
Welcome bonus: FortFs gives a welcome bonus upon registration and deposit of $100.
Customer support: Customer support is available in multiple languages. Customer support can be reached via live chat, email, phone, and an online contact form.
PAMM and copy trading features
The disadvantage of FortFs include:
Complex commission structure
Trading Conditions
FortFs trading conditions are similar to those found in most other brokers. They include:
Low minimum deposit of $5.
Low spread beginning from 1.1 pips.
Swap fees apply (Muslims are exempted).
Leverages begin from 1:33 up to 1:1000.
Deposit and Withdrawal
Having partnered with many payment processors, FortFs makes available a wide range of deposit and withdrawal methods. These include Qiwi, Skrill, Neteller, FasaPay, WebMoney, PerfectMoney, Visa/MasterCard, and bank wire transfers (for local Asian banks only). Trading fees are charged for some of these methods, but the deposits are processed almost instantly, except for card payments which may take up to a week.
Copy trading service
FortFs offers clients the chance to copy the trades of other trades onto their accounts for execution. This feature is well-developed in FortFs as Copiers have complete control over their accounts; they may modify trading positions and the copy ratio settings to their margin.
FortFs arranges the Masters in a ranked list. This list shows other information such as their past performances and ROI. Trades are copied in 0.1 seconds and refunds are given if losses occur as a result of an absence of trading signals. The copy trading feature works on all accounts without limits and the customer service support is always on hand to assist Copiers and Masters.
#7 LiteForex
Site: LiteForex.com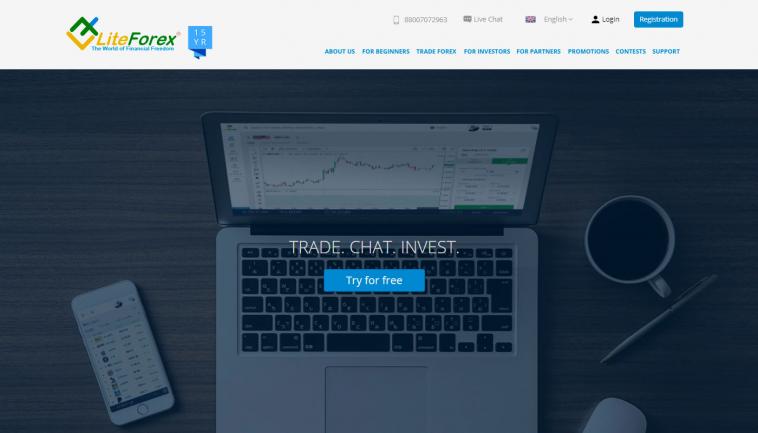 LiteForex is among the oldest new generation forex brokers having started operations as far back as 2008. LiteForex is registered as LiteForex Investment Limited in the Marshall Islands with registration number 63888. Licensed by the CySEC (Cyprus Securities and Exchange Commission), LiteForex is regulated and maintains the highest standard practice.
As a broker for the financial market, LiteForex provides access for clients to trade over 145 trading instruments and assets –cryptocurrencies, forex, indices, commodities, etc. LiteForex offers different trading accounts including ECN and classic accounts.
Advantages and Disadvantages of LiteForex
The advantages of LiteForex are:
Trading platforms: LiteForex has four trading platforms; the MT4 and MT5, the web trader, and the mobile trading app. LiteForex provides these platforms so that clients can trade with ease. The web trader is proprietary with the full features included.
Latest analytics: LiteForex traders have access to the latest analytical tools and materials in the industry. These include various analyses, forecasts, reviews, and expert opinions.
Customer support service: LiteForex provides 24/5 service to clients who require any type of support. On the website, different methods of reaching the support agents are provided –phone, email, live chat, or via a contact form.
Monthly contest for best traders: This serves as a spur for traders to become better at trading and earn some reward.
Trader education in the form of a trading blog, videos, and useful tips. With these, new traders are quickly taught the concepts and basic steps of trading.
Trading Conditions
The following trading conditions are enjoyed by LiteForex clients:
Tight spreads: Spreads begin from as low as 0.0 pips.
Small minimum lot sizes of 0.1.
ECN trading accounts are available
LiteForex allows a minimum deposit of $50.
A leverage of 1:500.
The classic accounts have a deposit bonus of 30%.
Deposit and Withdrawal
Neteller, Qiwi, MasterCard, Visa, SWIFT, PerfectMoney, Bitcoin, Maestro, and Skrill are some of the partner payment processors with LiteForex. These platforms are easy to use and ensure that deposits or withdrawals are processed on time. Bank wire transfers are also used for payment or deposits. LiteForex provides cryptocurrency (bitcoin) trading accounts through which clients can fund their accounts and then transfer the equivalent bitcoin in fiat to the other trading accounts.
Copy trading service
LiteForex's social trading is a copy trading hub that brings traders together to exchange ideas and copy trades from other verified, competent, and performing traders. The copy trading platform is well-designed to offer simple navigation and ease of linking accounts. The Copiers have access to the trading history of Masters who are ranked in order of decreasing in performance.
To begin copy trading, a client has to sign up for a trading account, then after selecting the preferred master, simply connect the account and start copying. The copying process is automatic; however, clients can choose to edit the copy ratio to suit their lot sizes and margins.
#8 OctaFX
Site: OctaFX.com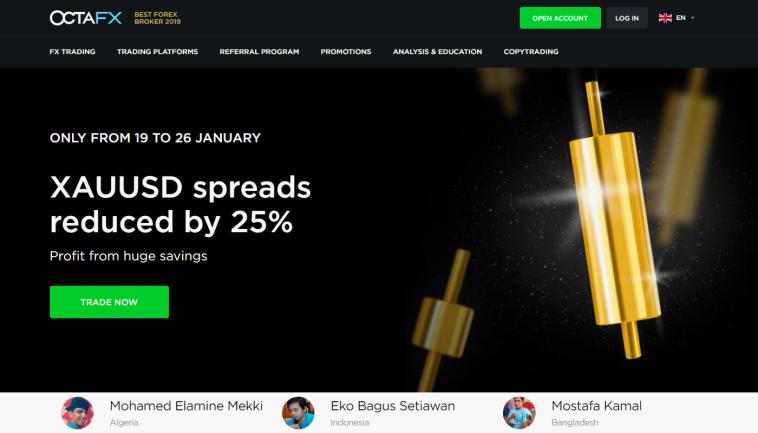 OctaFX, officially owned by Octa Markets Limited was launched in 2011 in St. Vincent & the Grenadines where they are registered with the number 359992. They are licensed to operate as a Fintech company by the CySEC with license number 372/18.
OctaFX gives traders a place to comfortably trade the financial markets through a plethora of assets and instruments including commodities, forex, indices, equities, and cryptocurrencies (only Bitcoin, Litecoin and Ethereum are available). The website is available in English and other major languages; clients from those regions can easily access it. OctaFX presently serves clients from 100 countries. The broker sees up to $4bn in daily trade volume.
Advantages and Disadvantages of OctaFX
The advantages are:
Modern trading platforms: OctaFX deploys modern technology on its proprietary trading platform which traders can comfortably use. OctaFX clients may also use their trading accounts on the MT4 and MT5 trading software or simply download the mobile app on their compatible smart devices.
Trader education and analysis tools are provided for clients to make the most of their trading experience.
An efficient customer support service that keeps clients happy and the whole process well-oiled.
Attractive trading condition.
A 50% deposit bonus.
CySEC-backed broker. Traders can trade with the assurance of their funds being safe.
A wide range of tradable assets means clients are not limited in their choice.
Negative balance protection on all accounts ensures that traders' funds are secure from debts.
Trading Conditions
OctaFX offers the following trading conditions:
Low minimum deposit which is set at $50.
Tight spreads on all accounts. Spreads begin from 0.0 pips.
Swap fees apply. Traders may turn this feature on or off. Traders on the MT5 platform may not pay a swap fee but instead, pay a three-night fee.
Low trading fees and trading commissions charged.
Fast execution, no slippage.
Deposit and Withdrawal
OctaFX allows traders to make deposits via various methods such as debit or credit cards, eWallets like PerfectMoney, Skrill, Neteller, Swift, Qiwi, etc. Bank wire transfers are also available. Bank wires may take anywhere from 24 hours to 7 days to be processed, but the other methods of deposits are instantly processed.
Clients may also use Bitcoin for deposits and withdrawals. This method takes anywhere from 5 minutes to an hour.
Copy trading service
The copy trading service offered on OctaFX is separated from the mobile trading app and hosted on a separate app called OctaFx Copy Trading. This app allows clients to connect with other traders, exchange ideas, follow and build a following, share their trading profiles, and eventually register as Masters or Copiers.
The mobile app is free to use but Copiers have to agree to a profit-sharing formula with their Masters. Trades are copied instantly and exactly except the client edits the trading ratio to reflect their account size.
The OctaFX app also has a social hub and customer support service which works 24/5.
#9 InstaForex
Site: InstaForex.com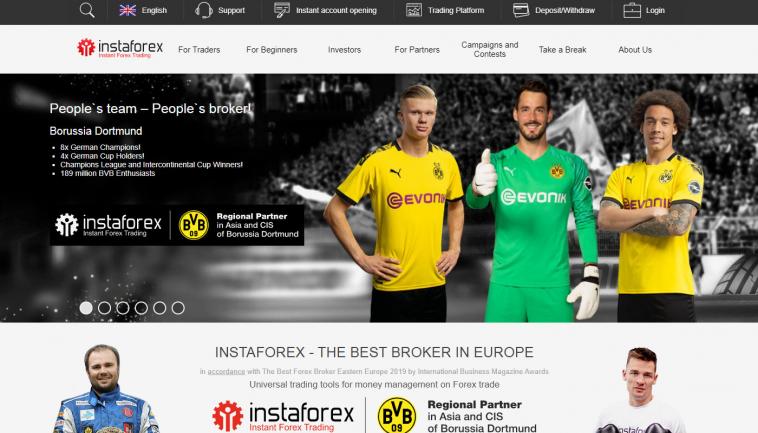 InstaForex provides access to the forex market through its brokerage services. Instaforex was established in the year 2007 and is a trademark of the Insta Trading Limited (BVI), a Financial services company that is licensed by BVI FSC, with License Number SIBA/14/1082. The parent company is registered with FSC Saint Vincent and the Grenadines, with registration number IBC22945.
InstaForex provides over 300 market instruments and assets for traders. These include forex, cryptocurrencies, indices, commodities, binary options, and stocks. The Instaforex website is available to clients from 100 countries and in multiple languages.
Advantages and Disadvantages of Instaforex
The following are the advantages:
Instaforex offers high-quality analytics for the forex market. This is simplified for even the newest trader to understand.
A forex signals app is provided. This app is unique for many reasons.
Traders also have access to forex education in different forms. They offer individual online training, as well as webinars and regular video lessons.
Efficient customer support 24/7 for assisting traders with any issue.
Some of the most competitive trading conditions in the industry.
Funds security: Because Instaforex is regulated by the CySEC, traders' funds are secure and safe in segregated accounts.
Trading Conditions
Instaforex operates its trading service with the following conditions:
Leveraged trading which begins from 1:1 pips to 1:100.
Small spreads beginning from 0.2
Deposit bonus applies to some accounts.
Swap-free accounts available
Cent accounts available
Weekend options trading
Deposit and Withdrawal
A wide range of deposit and withdrawal options are available on Instaforex. International and local bank transfers are available as customers from some regions can deposit using their local currencies. Customers may also use Bitcoin, Litecoin, credit, or debit cards (MasterCard and Visa), Skrill, Neteller, Payco, and Tether. Deposits are processed within hours (except for bank wires).
Copy trading service
Instaforex also offers a copy trading service that is similar to others found in the industry. Copy-trading in Instaforex is simple; clients connect their accounts to a Master account and all trades are copied instantly. The minimum deposit for copy trading is $10, and clients only pay fees when profits are made. The fees may also be paid by the broker.
#10 Amarkets
Site: Amarkets.com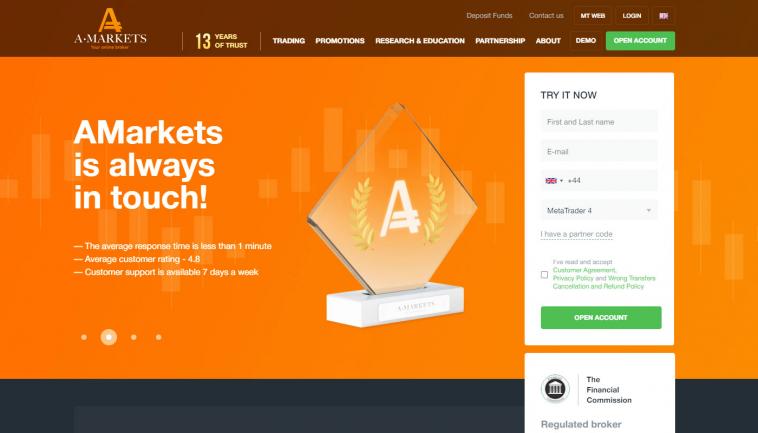 Amarkets was established in 2007 and since then, they have provided brokerage services to clients from nearly 100 countries. Amarkets offers over 40 forex currency pairs, commodities, CFDs, indices, metals, stocks, and cryptocurrencies for trading. The broke is registered in St. Vincent & the Grenadines with registration number 22567 IBC 2015. Amarkets is licensed by CySEC to offer financial services. Its website is available to clients around the world in multiple languages.
Advantages and Disadvantages of Amarkets
The advantages are:
Trader education for new traders: They have access to basic and intermediate classes to increase their knowledge. Training is delivered via blog, webinars, and recorded videos.
Advanced analytics for traders which includes tools, analytics by experts, etc.
Four trading platforms available on IOS, Mac, Windows, and Android. The proprietary trading platform, mobile app, and the MT4 and MT5 platforms are open to all clients.
Regular bonus offers and promotions.
Customer support service available all day.
Trading Conditions
Amarkets offers competitive reading conditions in the market, making the broker stand out among the crowd. Some of these are:
Leverage begins from 1:50 and goes up to 1:1000.
Spreads begin from 0.2.
Orders are executed in 0.03 seconds or less.
ECN accounts are available
Trading currencies are EUR and USD.
Deposit and Withdrawal
Bank wire transfer, MasterCard Visa card, Wallets such as Skrill, WebMoney, SWIFT, PerfectMoney, Neteller, and FasaPay are available for deposits and withdrawals. Deposits are processed within a short time.
Copy trading service
Amarkets copy trading is called RAMM (Risk Allocation & Money Management). It works in a slightly different manner from other copy trading services. In RAMM, traders create and deploy strategies that send signals to linked accounts. The signals are either automatically copied or entered by the receiver. The trading positions can be edited or altogether closed as the investor wishes.
Amarkets copy trading service is available for every account registered with the broker. Within minutes, clients can connect their accounts to a strategy manager and have all the moves the manager makes copied to their account. A profit-sharing system is in place, but each manager sets their rates (within limits).