Introduction
The trading of binary options rose to a peak in 2015/2016, before a series of unfortunate events hit the market badly and almost precipitated a total collapse of that market. One of the reasons why the market took such a huge hit was the influx and activities of many scam brokers who refused to play by the rules of fair play.
The binary options market is now undergoing some sort of renaissance, with the emergence of a new class of brokers. The ten best binary options brokers featured on this list are the brokers we have carefully selected because of their track record of honest and fair dealings with clients. These brokers have taken a path that is very different from the brokers of yesteryears that brought the market into disrepute. Thanks to these brokers, some stability and confidence are being restored into binary options trading.
Binary options trading is a type of trading in which there are two options or outcomes, out of which only one can be correct. The trader is expected to choose what will ultimately be a correct option, or a wrong one. Choosing an outcome that eventually plays out brings a reward: either a win (with a fixed payout) or, a loss (with nothing at all,). The trading principle is based on the determination of an asset's price at a particular time; would it be below or above a certain price?
There are hundreds of binary options brokers in the financial market today. However, they do not all offer the same quality of service to traders. This makes it imperative for traders to carry out deep research before they settle for trading with a particular broker.
Let us explore certain features every good broker should possess. Good binary options brokers should possess the following features:
Fast servers for speedy executions: These are necessary for the success of binary trading. In a market where a single pip can make all the difference, trades have to be executed swiftly, and even the slightest delay may lead to losses.
Wide range of assets: Good brokers offer numerous assets for binary options trading.
Customer service: Resolving customers' queries should be a priority of every broker. Having a dedicated team on hand around the clock to handle clients' issues is one important feature to look out for.
Regulation: The safety of trading funds is non-negotiable. The regulation of market operators goes a long way to ensure this.
What are the things today's traders look for in good binary options brokers?
Regulation: Traders feel safer when their broker is registered in a country and licensed by an authorized body to provide financial services. This increases their trust to trade with the broker.
Innovation: As technology advances, the trader would expect to see a broker that offers more technology-driven products and services.
Trading speed: Every trader expects fast execution of trades from their brokers.
Bonuses: Deposit bonuses or cashback payments are motivating factors for traders and so they often watch for brokers that offer these provisions.
Fast transactions: Traders prefer brokers that offer instant deposits and withdrawals. Most traders will accept a 48-hour processing time for withdrawals.
Copy-trading: Social/copy trading may be preferred by traders who do not wish to enter trades manually. Brokers offering this feature are will be appreciated.
AI-driven platforms: When service agents are assisted by AI, trading suggestions and analytics are powered by AI, traders will have more confidence in their trading skills.
Trading robots: Many traders are open to using automated trading bots to explore binary options trading. Only a small percentage of brokers currently allow trading bots.
Both the old and new brokers are expanding their platforms to accommodate modern demands. This has led to certain innovations in terms of trading platforms, options and payment methods. Some of the most impactful ones are:
A. Faster deposit and withdrawal options: With the development of FinTech, brokers can now create virtual, dedicated accounts so that readers can fund their trading accounts instantly using fiat or cryptocurrencies. By partnering with FinTech companies and introducing blockchain technology, brokers reduce the time it takes to receive and disburse funds.
B. Addition of assets: More assets are being added. These are mostly cryptocurrency/fiat and cryptocurrency pairs. This increases the options from which traders can choose.
C. Integrated trading platforms: From proprietary trading to mobile trading platforms, brokers are improving the functionality of their platforms and charts.
List of the Binary Options Brokers
In this article, we'll explore 10 of the best brokers for trading binary options.
#1 Binary.com (now Deriv)
Site: Binary.com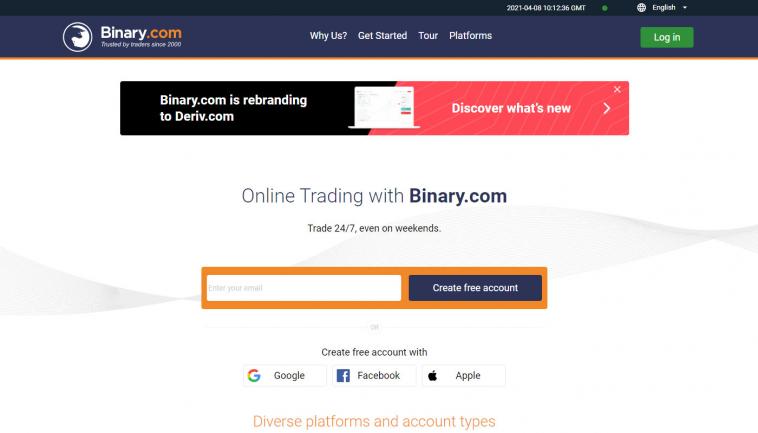 Binary is one of the most popular brokers for trading synthetic indices and binary options. Binary was the first broker to introduce binary options trading nearly 20 years ago, and hence retains a large percentage of the market share of binary options traders worldwide. Having been rebranded from Betonmarkets.com in 2013, Binary is owned by the Regents Market Group, which also manages the platform.
Binary is registered as a financial markets broker in Malta by Deriv Investments Limited at address W Business Centre, Level 3, Triq Dun Karm, Birkirkara, BKR 9033, Malta, and is regulated by the Malta Financial Services Authority with license number IS/70156. Binary does not offer binary options trading to traders in the U.S, Malaysia, Iran, the UAE, and Hong Kong. This is because of regulatory restrictions in those countries.
The advantages of trading on Binary.com are:
Instant execution: Binary has servers located at strategic points to provide the fastest connection for traders. This allows traders to enter and exit trades without delays from Binary's end.
Customer support: Binary's customer support is top-notch. The customer care agents are always on hand 24/7 to assist traders in resolving any issues on the platform. The customer service can be reached via email and a service contact form on the website.
High payout: Binary's payout typically ranges from 65% to 91%. Some assets may have 100% payout at certain times, usually depending on the volatility of the market.
Demo accounts: Binary allows traders to practice strategies on a $10,000 virtual trading account.
Binary has a launched new trading platforms for trading synthetic indices, forex and CFDs and binary options. These are found at Deriv.com, which is the URL for trading synthetic indices. There is also the SmartTrader, which is Binary's premier trading platform for trading classical binary options. The SmartTrader also exists as a web-based mobile trading platform.
Tick trade android app: This mobile is the fasted trading platform on Binary. Traders can perform on-the-go trading on it. The web-based web trader allows clients to trade using their desktop PCs. Trading robots are also available. The bots are customizable and traders can create theirs. Binary is also present on the MT5 app where traders can trade the various instruments.
Binary offers binary options trading on over 45 major and exotic pairs. Stocks and indices are also available. Trade durations can last from 5 seconds to 365 days.
When it comes to trading tools traders using Binary have access to advanced trading tools such as charts, indicators and an innovative charting platform called TradingView.
Clients can deposit a minimum of $10 using wire transfer, debit/credit cards, eWallets, bitcoin, and exchangers. Withdrawals are processed using the same deposit platforms within a day.
Binary offers the following types of binary options: Up/Down (Rise/Fall and Higher/Lower), Touch/No Touch, In/Out (Ends Between/Ends Outside and Stays Between/Goes Outside). There are also special options types such as the Asians, Digits (Matches/Differs, Even/Odd and Over/Under), Reset Call/Reset Put, High Ticks/Low Ticks.
#2 Finmax
Site: Finmax.com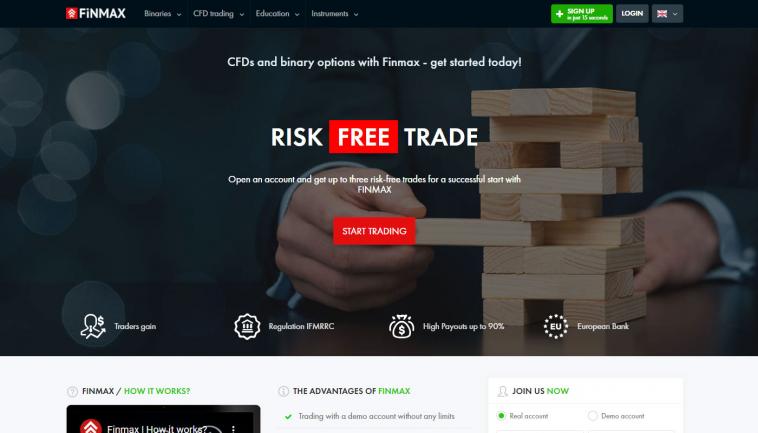 Finmax is a binary options broker in Bulgaria that offers a platform for clients to trade the financial markets. Since 2015, Finmax has provided brokerage services for traders across numerous countries. Finmax is regulated by the IFRMMC with license number RU 0395 AA V0150. The website is available in multiple international languages including English, Spanish, Italian, Arabic, Portuguese, French and Russian.
Four types of trading accounts are offered: Bronze, Silver, Gold, and Platinum, and VIP. The minimum deposit for these accounts are: $250, $1000, $5000, $25000, and $100,000 respectively. All account types enjoy constant customer support services.
Finmax offers instant trade execution, made possible by advanced technology that allows high-speed data transfer.
Finmax offers individual and general trader education for registered clients. These include ebooks, videos, notes and articles. Clients with no prior experience can take advantage of this to begin trading with minimal training.
Finmax customer care agents are available 24/7 for traders to resolve all issues. On the website, there is a chat service at the bottom-right corner for visitors and clients to chat with agents instantly.
There is a demo trading account for traders to practice strategies and become familiar with trading tools. All accounts qualify for a deposit bonus (subject to change) of up to 100%. Traders can also engage in risk-free trades for up to 50% of their deposits.
Finmax also offers free first withdrawal on every account while subsequent withdrawals attract a comparatively tiny fee. Dormant accounts may also be levied, depending on some conditions.
The only disadvantageous point that can be found with Finmax is that the number of assets that can be traded are limited.
Finmax offers a proprietary web trading platform that allows for instant registration of demo or live accounts. This web trader is accessible on PCs (IOS, Windows, Windows mobile), web platforms, and compatible mobile devices (IOS and Android). It has full trading features such as analytical tools and chart tools.
The platform also has a social app called the Social Radar which allows traders to view other traders and copy the trades of those they make. When it comes to trading assets, Finmax offers over 45 major and exotic forex pairs. Clients can also trade other stocks and commodities, with a total of 75 assets.
Finmax offers its traders a wide variety of tools to help them analyze the market, formulate a strategy and pick suitable entry points. Tools for technical analysis such as graphs, charts, and indicators are available. Economic calendars and financial news are also made available.
Clients can deposit and withdraw using credit or debit cards (Master Card, Maestro, VISA Electron card and VISA), eWallets such as Skrill, Neteller, Yandex, Perfect Money, QiWi wallet and WebMoney etc., and via bank wire. When it comes to types of trades, Finmax offers only two types of trades: Up/Down and Above/Below.
#3 Dukascopy
Site: Dukascopy.com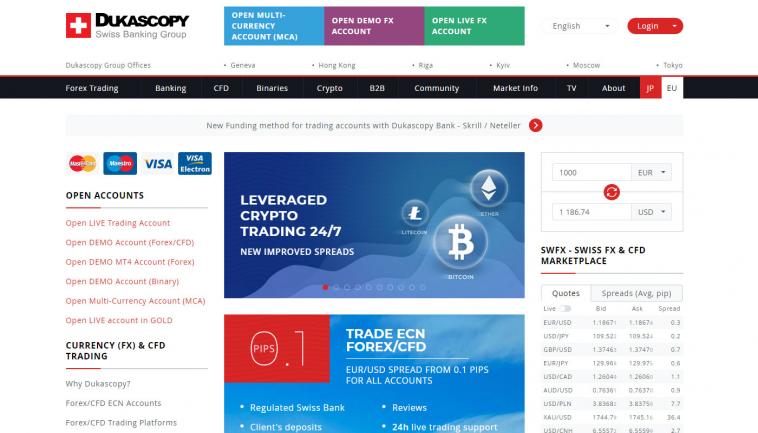 Dukascopy broker is a financial institution in Switzerland. Duksascopy provides access and trading platform for clients to trade the financial markets like forex, CFDs and binaries. The company is officially registered as a subsidiary of Dukascopy Bank based in Geneva, Switzerland. The bank oversees the financial regulation of the trading subsidiaries in different countries.
Dukascopy Bank was founded by Andre and Veronika Duka in 2004 in Geneva. The bank is regulated for financial securities by the Swiss Financial Market Supervisory Authority FINMA. The website provides registered clients with a trading platform available in 13 different languages. From the homepage, clients can register a demo, live or multi-currency trading accounts and begin trading immediately. Trader verification is only compulsory to withdraw huge amounts from the platform.
The advantages that traders get when using Dukascopy broker are
Instant payments: Dukascopy prides itself on processing payments instantly. This service is made possible because the Dukascopy bank manages the trading platforms.
Using a multi-currency account (MCA): The MCA is targeted at traders with a deposit capital below $100,000. The account allows clients to carry out daily transactions without visiting the institution for physical verification. An MCA can be opened online and verified via video verification. Deposit protection is also available. The MCA may be linked to some crypto exchanges where clients can invest in BTC, ETH and other assets.
Customer service: Dukascopy customer service is available all day long in multiple languages. Service agents can be reached via email and phone numbers displayed on the website. There is also a chat service.
Copytrading: Clients can view and copy the trades of other traders for certain instruments. However, the trades have to be manually entered.
A disadvantage is that trading robots are not allowed for any accounts. All trades have to be entered or exited manually.
The Dukascopy binary trading platform is a proprietary platform that contains full trading features. Traders have access to fundamental and technical analysis tools. Forex and CFDs traders may use the MT4 platform where Dukascopy offers trading for those instruments.
On Dukascopy, clients may trade options on a wide range of FX currency pairs including the major pairs like EUR/GBP, EUR/USD, USD/JPY and other exotic pairs. Binaries trading are also available for stocks and a few commodities.
Fundamental and technical analysis tools are present for traders. Traders can choose from the different charts, graphs and indicators on the trading platform.
As a subsidiary owned by a banking institution, Dukascopy broker presents a lot of deposit and withdrawal options for traders. Traders can use any of these four options:
Wire transfer (which may take 1-2 business days) and is free.
Card payments (using MasterCard, VISA, VISA Electron, and Maestro, with a 1.2% fee).
E-wallets like Skrill and Neteller (with a 2.5% fee).
Crypto deposits, which are free.
Traders on Dukascopy can carry out two types of binary trading:
Binary options which is the Up/Down binaries trading on currency pairs.
The Touch options which is binaries trading on currencies pair striking a determined spot on the price charts.
#4 PrimeXBT
Site: PrimeXBT.com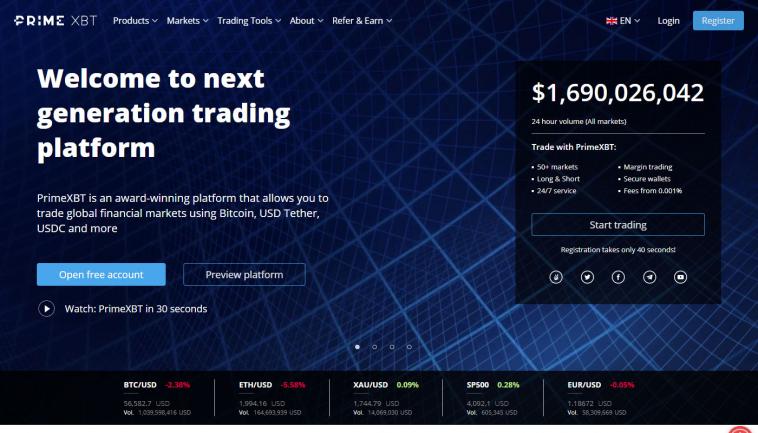 PrimeXBT broker is a cryptocurrency broker for the financial markets. PrimeXBT offers a platform for trading forex, binary options, and CFDs. PrimeXBT was founded in 2018 and is registered under the PrimeXBT Trading Services LCC in St. Vincent and the Grenadines with registration number 222LCC2019. The website is available in 16 multiple languages. Clients can access the products and services on the website from over 150 countries. PrimeXBT is powered by Amazon AWS, a cloud service that enhances user experience.
The advantages of trading with PrimeXBT are:
Instant trade execution: PrimeXBT deploys modern internet technology and fast servers to give clients the best speed in trading binary options. Trades are executed instantly, and all analytical tools are constantly synchronized to follow market trends without delay. The platform is designed to process over 12,000 orders per second at a speed of less than 7 ms.
Trader education: Beginners in the forex markets can learn how to trade binary options within a short while. Training is in form of ebooks, videos and webinars.
Customer service: PrimeXBT provides agents to attend to customers in multiple languages through three chief means; email, chat, and a contact form. The customer care agents are available around the clock.
Low fees: Clients on PrimeXBT offers a competitive fee structure.
PrimeXBT offers its proprietary trading platform called PrimeXBT trading platform. It is a web-based platform that is fully customizable, advanced, and simple to navigate. Traders can choose from a variety of themes, colors, and tools to create the best trading environment for them. The intuitive platform is designed to help traders analyze and trade the market with no hassles. The technical analysis tools are professional and up-to-date. Over 50 indicators are provided to follow price movements.
PrimeXBT allows traders to access various market instruments from one account. Clients who trade binary options can choose from a list of Bitcoin and other currency pairs.
Traders have access to some of the most advanced trading tools on PrimeXBT. Technical analysis tools include charts, indicators and other drawing tools. Traders can open multiple windows to analyze several assets as they trade.
The available deposit and withdrawal platforms on PrimeXBT are bank wire. Credit/debit card (VISA and Master), e-wallets (Neteller, Skrill, WebMoney) and bitcoin. The broker provides a wallet for storing crypto assets in secure storage. The minimum deposit amount is 0.001 BTC and the minimum lot size is 0.01 BTC.
PrimeXBT provides binary options trading for cryptocurrency asset, Bitcoin. The trade option is the classical Up/Down option.
#5 CloseOption
Site: CloseOption.com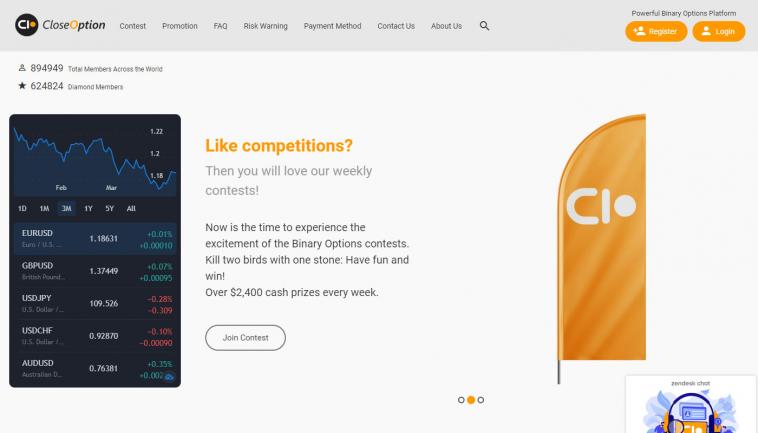 CloseOption broker was established and registered in 2013 as a financial market institution in Georgia, with registration number D86708031. The broker provides a platform for clients who wish to trade in the financial markets. CloseOption is licensed and regulated to provide forex and binary options trading by the National Bank of Georgia, with license number B 2-08/3647.
The website is available in multiple international languages and new clients can easily open an account from the homepage. The website also provides access to other links that the trader needs to get started.
The advantages are:
Multiple deposit options: Customers have a wide range of methods to make deposits and process withdrawals.
Trader education: Traders with varying levels of experience can find useful information regarding the financial markets in the form of videos and ebooks. Regular webinars are also provided.
Contests with prizes: CloseOption organizes a regular trading contest for clients. The prizes are different for each category, and the contests are open to registered traders only.
Low trading fees: CloseOption charge little for withdrawals and keeping dormant accounts.
Instant trade execution is made possible by the integration of cloud services and super-fast servers. Trades are executed instantly without delay.
Available to US traders: The ban faced by many brokers from operating in the US does not affect CloseOption.
The disadvantage is that there are a limited number of assets to trade. CloseOption only offers 30 FX currency pairs for binary options trading. This limits traders' options for exploring the financial market.
CloseOption provides a proprietary trading platform from where clients can trade binary options. The platform is available on iOS, Windows, Mac OS, Android, and compatible browsers. The web-based mobile platform is equipped with full trading features including charts, indicators, fundamental analysis, and a customizable trading area.
When it comes to the assets listed for trading on CloseOption, traders can select any of the 30 currency pairs to trade binaries. The pairs are mostly major pairs, with a few exotic pairs offered along. The payout may vary anywhere from 43% to 80% on major pairs. The exotics have similar payouts but may reach 83%. There are no stocks or commodities available as assets for binary trading.
CloseOption provides multiple platforms for customers to make deposits and withdrawals. Customers may deposit via bank wire, debit or credit cards (MasterCard and VISA), eWallets such as Paypal, Perfectmoney, WebMoney, and cryptocurrencies (bitcoin). CloseOption allows traders to deposit a minimum of $5 and execute trades with a minimum of $1. Payouts may reach up to 85%. Withdrawals are processed within 48 hours or 2 business days.
On CloseOption, traders can carry out binary options trading using the High/Low trading variant of the Up/Down strategy. In this strategy, a position is entered based on the prediction that the price will rise higher or lower than the current price.
#6 GCOption
Site: GCOption.com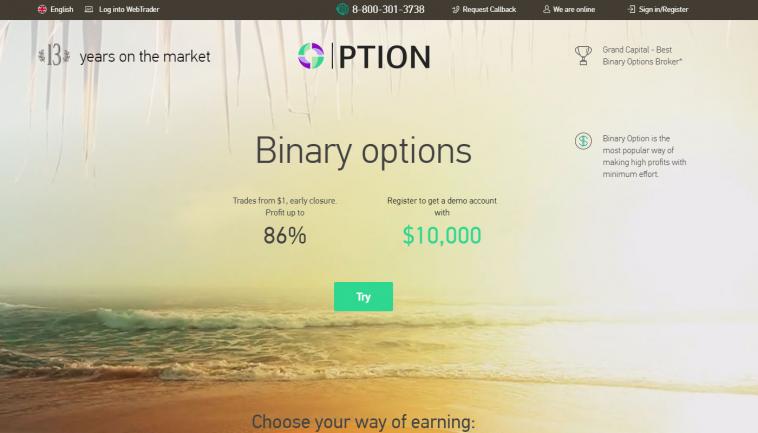 GCOption is another multi-function broker for trading the financial markets. It was established in 2006 as a subsidiary under the Grand Capital Group and since then, GCOption has provided a platform for traders who wish to explore various financial markets from around the world. GrandCapital LTD. is registered with reg. number 24598 IBC 2018 and has its offices at Suite 305, Griffith Corporate Centre, P.O. Box 1510, Beachmont, Kingstown, St. Vincent and the Grenadines. International Financial Commission (FinaCom) and all client accounts are insured.

Available to every country but the US and Japan, GcOption features a simple but classy website from where clients can open new accounts and begin trading immediately.

The website is available in multiple languages. The following are the advantages of trading on GCOption:
Access to over 300 assets: GcOption provides access to over 300 assets including stocks, FX currency pairs, and commodities.
Risk-free trading: Traders can carry out risk-free trading for their first 3 trades.
Return of deposit fees: Most of the deposit platforms charge a fee on customers' deposits. However, GcOption adds the deducted fee back to the clients' accounts to give them back their whole deposits.
Instant trade executions: Due to the high-speed internet technology deployed by GCOption, clients are assured of instant executions of trades. There is no lag in server speed.
Deposit bonus: All trading accounts are eligible for a deposit bonus, subject to certain conditions. Traders who meet these conditions can receive up to a 100% bonus on their capital deposit.
Customer service: GcOption has a dedicated service team on hand 24/7 to attend to customers whatever their challenges may be. The service team can be reached via email, a provided phone number, or a contact form provided for that purpose.
Copy-trading: All clients may register for the copy-trading service either as a Master or as a Copier. Trades are reflected on the accounts in real-time and a profit-sharing formula is in place to ensure satisfaction.
GCOption offers two trading platforms for binary options trading.
Metatrader 4: The MT4 trading platform is available for clients who wish to trade on a popular retail platform with tools for advanced analysis. The MT4 is equipped with every technical tool available on the platform and clients have access to economic news, ensuring that trades can be done from an informed perspective.
Proprietary web trader: The web trading platform is GCOption's proprietary trading platform where traders can explore the financial market directly from the website after registration. The web trader has fully customizable features, technical and fundamental analysis tools, and links to contact service agents.
On GCOption, traders can access 300 assets. However, binary options traders have access to over 45 currency pairs. Several technical tools like charts, indicators, and graphs are available for use on GCOption's various platforms.
As far as deposits and withdrawals are concerned, clients can make deposits via wire transfer (local and international bank wire), e-wallet payments (Neteller, FasaPay, WebMoney, etc.), debit/credit card payment (VISA and Mastercard), and cryptocurrency-based payments (Bitcoin and Ethereum). Withdrawals are processed via the same deposit channels. All transactions are processed within 2 to 5 business days.
The only type of trade that is offered on GCOption is the classical Call/Put option (a variation of High/Low binary trading).
#7 Quotex
Site: Quotex.io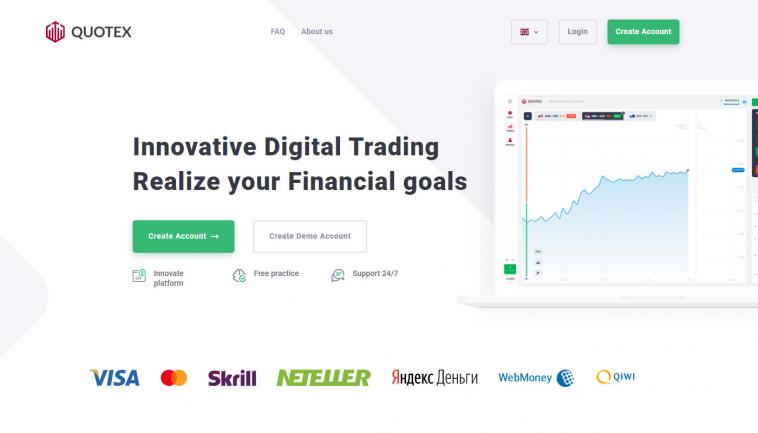 Quotex is a broker that offers forex, cryptocurrency, and only recently began to offer binary options trading. The brokerage brand was launched in 2019 and is registered to Awesomo Limted, a financial company in Seychelles. Quotex is regulated by the International Market Relations Regulation Centre (IFMRRC) with license number TSRF RU 0395 AA V0161. The office address is at 103 Sham Peng Tong Plaza Victoria, 1, Mahe, Seychelles ID: 226716. The website is available for traders from every country except the USA, Canada, Hong Kong, and Germany.
The website is available in 15 languages, and new clients can open a trading account within two minutes. Trading with Quotex offers the following advantages:
Customer service: The customer service agents of Quotex are highly professional and performs "lightning-fast" response to queries. Customers can expect their challenges resolved within the shortest possible time.
Simple trading process: As stated on its website, Quotex is committed to making the trading process simple and smooth for every category of traders. This commitment is shown in the design of its trading platform which offers simple, easy-to-use features.
Demo account: Quotex's demo accounts are a reflection of live accounts. Traders can practice and perfect their trading strategies with a virtual account. The demo account also helps traders to familiarize themselves with the platform's features.
Copytrading: Clients may register for copy-trading and copy the binary options trades of other traders. A Masters's board is displayed with the top earners daily.
Trading signals: Quotex offers trading recommendations by analysts. These signals are given after an analysis of various assets. Clients are notified of the choice to use the signals or not; they are only suggestions.
The disadvantage is that there is no provision for in-depth trader training. Only the FAQs and financial questions section are available for traders to learn a little about binary trading.
Quotex's trading platform is a software complex that allows traders to enter and exit trades. The platform is proprietary and web-based. Clients can access the trading platform after registration. There are no mobile or PC applications for download. The web trader is easily navigable and allows traders to carry out trades with ease.
In terms of the trading assets on offer, Quotex offers mostly forex pairs, commodities, securities and some indices. Clients can select from over 200 assets to trade on. Several technical trading tools such as graphs and indicators are available on Quotex. The trading platform comes with advanced customizable indicators.
How about the processes involved in depositing and withdrawing funds on Quotex? To make deposits and withdrawals on Quotex, traders are offered a wide range of methods. Deposits can be made via cryptocurrency (bitcoin), wire transfer (local and international wire), credit card (MasterCard and VISA) and via eWallets (MobileMoney, Neteller). The minimum deposit and withdrawal amount is pegged at $10, and the fiat currencies are Euro, Dollars and Pounds.
There are no complicated trade types on Quotex. The platform offers clients binary options that are based on asset direction; the Up/Down trade type. With this binary option, the payout may be up to 98%.
#8 Binarium
Site: Binarium.com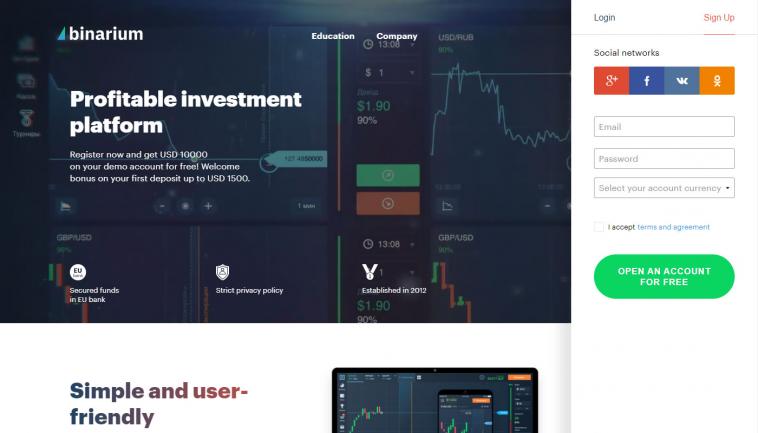 Binarium is a binary options brand registered in Nicosia, Cyprus with registration number HE321566. Their registered address is Souliou, 18, 2018 Strovolos, Nicosia, Cyprus and the office address is Office 01, 9 Kappadokias, Dasoupoli, 2028, Nicosia, Cyprus. Binarium was established in 2012 in St. Vincent and the Grenadines and since then it has offered brokerage services for clients seeking to trade the financial markets.
The website is available in over 12 languages and from the homepage, visitors can register new trading accounts. The broker offers binary trading and it is managed by a team of professional traders, market technicians and administrators.
The advantages of trading on Binarium are:
Low trading fees: On Binarium, traders are not charged for trades. However, dormant accounts may be charged a certain fee upon reactivation.
Low lot size: The minimum lot size is $1. This is done to encourage money management and help traders.
Demo account: The demo account is a virtual $10,000 funded account on which traders can practice strategies and become familiar with the trading platform.
Deposit bonus: The minimum deposit is $5 and clients are eligible for a 100% deposit bonus. The bigger the deposit, the more advanced features the client will have access to.
Deposit insurance: On the website, Binarium states that clients' deposits are safe in EU banks. All transactions processed are monitored for funds safety.
Customer care service: On the website, a visitor can quickly contact the customer care service. Phone numbers, social media links, email and online chat services are provided for clients and visitors who want to reach service agents.
The drawbacks of trading with Binarium border on trader education and the level to which the platform features appeal to advanced traders. No trader education is offered on the Binarium platform. Clients have to get educated on binary options from other sources. The platform can be a bit too basic for advanced traders who cannot afford bigger deposits.
As with most binary options brokers, Binarium's trading platform is a web-based trader. There is no mobile application. After registration, traders have access to the trading area from where they can carry out trading activities. The web trader has all the tools required, including 12 popular indicators and charts. A chat box at the bottom-right corner allows traders to contact customer care directly while trading. Clients may open a new account using their social networks like Google+ and Facebook. Traders can register any of four accounts; Basic, Business, Premium, and VIP.
There are several FX currency pairs available for trading. Clients can set up as many as 10 trades at time. Cryptocurrencies (BTC, LTC) are also available. Over 120 assets in all are available for binary options trading.
Traders can also get access to an array of tools and resources with which to perform technical and fundamental analysis.
In terms of deposits and withdrawals, the methods available for traders on Binarium are VISA and MasterCard (Credit card payment), Neteller, WebMoney, QiWi, FreeKassa (eWallet), and Bank transfers.
What types of trades are offered on Binarium's platforms? On Binarium, binary options trading is offered as:
High/Low trade: The trader enters a trade on the prediction that the price level will finish move higher or lower than the trade position at the expiration of the trade.
One-Touch trade: In the one-touch trade, the price is set and at the end of the trade, the line must touch one or two of the setpoints.
60 Second trades: This is also called the Turbo Trade. In turbo trade, all trades expire within a minute.
#9 PocketOption
Site: PocketOption.com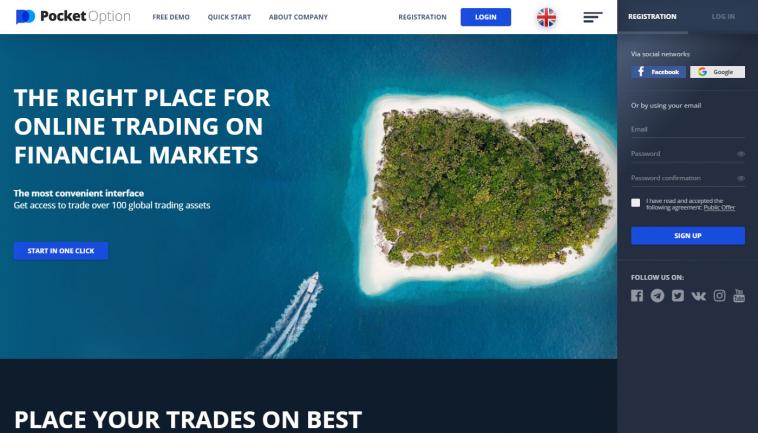 PocketOption is a broker registered to Gambell Limited, its parent company. It is registered at Trust Company Complex, Ajeltake Road, Ajeltake Island, Majuro, Republic of the Marshall Islands MH 96960 with the registration number 86967. Gembell LTD. is regulated to provide brokerage services for trading binary options by the IFMRRC with license number TSRF RU 0395 AA Vv0158.
PocketOption was established in 2017 and is based in the Marshall Islands. The website is designed to offer full functionality to traders. It is available in multiple international languages. From the homepage, new clients can create accounts within a few minutes.
The advantages of trading with PocketOption are:
Deposit bonus: Trading accounts are eligible for trading bonuses ranging from 50% to 100%.
Flexible trading tools: Up-to-date charts, copy-trading, and pending orders see available.
Trader education: PocketOpyion offers trader education in form of tutorials, guides, and other trading strategies.
Access to diverse assets: Traders can choose from stocks, Forex currency pairs, commodities, and cryptocurrencies.
Demo account: A demo account with $10,000 virtual money is allocated to each trader to practice and pretext their trading strategies. It is a risk-free way to learn binary trading and become comfortable with the platform.
Customer loyalty programs: PocketOptions provide regular reward programs for traders. These include gifts, promo codes, trading contests and tournaments, and deposit bonuses. These are geared towards improving customer satisfaction. PocketOption also offers cashbacks for customers.
Pocket Option provides a mobile trading application and a desktop trading application available on both IOS and Android, and MacOS and Windows. The software provides access to trading binary options with the full technical analysis tools in place. The features are customizable; traders can set the parameters they prefer.
PocketOption offers a wide range of tradable assets including major and exotic currency pairs. All assets are monitored live. Stocks and commodities are also available.
Various technical and fundamental analysis tools are available on PocketOption. Traders can choose from the common indicators in the industry to trade, and combine this with the market news to get a more informed view of the markets prior to executing their trades.
Pocket option offers over 50 platforms for deposits and withdrawals. These platforms are either free or attract a fee (charged by the platform, not PocketOption). They include bank transfers, credit or debit cards, cryptocurrency payment systems and e-wallets.
Traders can either make a Call (High) or Put (Low) trade.
#10 Spectre
Site: Spectre.ai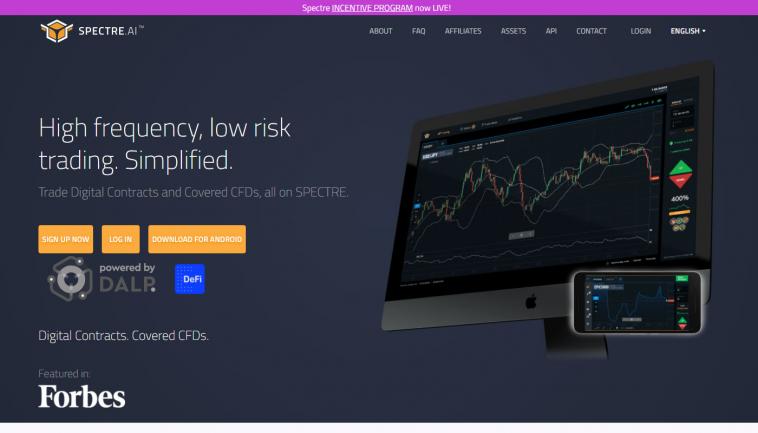 Spectre is a binary options broker registered and incorporated as an International Business Company in St. Vincent and the Grenadines with reg. number 25113 IBC 2018. It is registered as Spectre Trading Limited at address Spectre Trading Limited, Suite 305, Griffith Corporate Centre, Beachmont, Kingstown, St. Vincent and the Grenadines.
Spectre is among the pioneers of DeFi brokerage, having incorporated blockchain technology into its trading system. It is essentially a broker-less system, because it does not hold clients' funds. Spectre rather provides access to traders to trade with their funds directly from their wallets. Spectre runs a Decentralized Autonomous Liquidity Pool on the Ethereum network. This, new orders are added to the ledge as they are filled.
On the website, clients can select any of the 8 languages provided to enjoy features. The registration process is quite easy, and a simple but powerful identification process is in place.
The advantages of trading with Spectre are:
Blockchain technology: Blockchain technology is revolutionary and gives total assurance of transparency. Traders can trade knowing that their funds are safe and that their funds never leave their wallets.
Fast deposit: Traders who use fiat can choose to deposit using their currencies. The deposits and withdrawals are processed within one business day.
Trader education: Traders on Spectre are offered basic trader training and education on how blockchain works.
Copy-trading: Through APIs, traders are given the option of copy-trading.
Islamic account: Muslims who wish to trade may opt for Islamic accounts. These accounts are without fees and commissions.
Low lot size and minimum deposit: The minimum lot size is $1, and there are no minimum deposits per transaction.
Spectre operates as a mobile application. All traders may use the proprietary trading platform or the mobile app which is available on all compatible mobile devices. The mobile platform is designed to suit traders of every level of experience. The technical analysis tools are advanced and updated regularly to enhance the trading experience. Traders may choose from over 30 indicators.
Major, minor and exotic FX currency pairs are listed for trading, with binary trades on these assets providing returns that are as high as 93% on Spectre. All trading tools including charts, drawing tools, and indicators are available. Traders can customize their tools according to the parameters they decide on.
The deposit options available are Mobile money (Skrill, Neteller, FasaPay, Help2pay, Advcash, Uphold etc.), Bank transfer, and Credit/debit cards. Crypto payments are also available.
Traders can typically trade the Up/Down binary options on the Spectre platform.
Considerations Made When Selecting the Binary Options Brokers
Choosing a broker for binary options trading requires some research. The key information that were used in making the choice of the 10 best binary options brokers featured in this piece are listed below.
Regulation: Brokers must be regulated for the financial markets. There are a lot of fake brokers offering binary options trading without regulation. These brokers can manipulate markets to make traders lose.
Deposit insurance: Although not every broker offers insurance on deposits, traders should mostly do for those who offer that. This is especially important if wire transfers are made for deposits.
Speed of execution: Binary options is time-dependent. The tiniest delay can make traders lose their determined entry point. The broker to choose must have a high-speed connection to allow traders to enter and exit trades instantly.
Payouts: Payouts should range between 65% to 91% (typical rates). Higher rates are possible.
Low costs: Good brokers charge little or no costs for keeping an account and for withdrawals.
Low deposits and lot size: The broker should also allow low deposits (typically $10) and low lot sizes (typically $0.35 minimum).
Tools and platform: It is best to choose a broker that offers advance and complete trading tools such as charts and indicators, and a mobile trading platform.
Trader education: Good brokers offer a certain level of trader training. Traders should look out for brokers who offer on-site navigation or at least, a FAQ section to help traders navigate the platform successfully.
Conclusion
In conclusion, binary options brokers are an essential component of the trading process and proper selection goes a long way to determine trading outcomes.
Choosing a good broker is also important. Brokers with good trading conditions provide a level playing field so the trader can focus on just those things that are essential to the trade processes.
Familiarity with the binary options broker should be established by at least trying out the demo platforms. Gone are the days when brokers did not provide demo accounts. These days, demo accounts are provided. Even the ones with time limitations provide enough time for traders to hone their skills before going live. Traders should practice their strategies on demo accounts so that they can become familiar with the trading platform their broker offers.